The Snap Source, Inc.
PO Box 4965
Troy, MI 48099
1-800-725-4600 (North America and Canada)
1-248-280-1411 (Local and International)
Fax:1-248-280-1140
Odds and Ends
:: Snaps
Stainless Steel & Other Snaps
Our specialty Stainless Steel snap fasteneres are raw and unplated. They are perfect for those with extreme metal allergies and for production of PPE, medical gowns/scrubs and chef attire just to name a few. The Stainless Steel snaps do not mate with our standard nickel & lead-free snaps. It is for this reason they have their own special page on our site.
If you would like to locate more great companies that sell snap fasteners for boating, leather or RVs click here.
Stainless Steel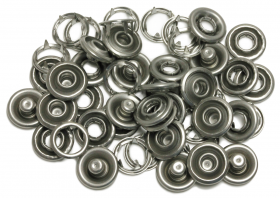 Available in Size 16 Ring & Cap,
Size 18 Pearl and Sizes 20 & 24 Cap
Larger quantities available here
American Made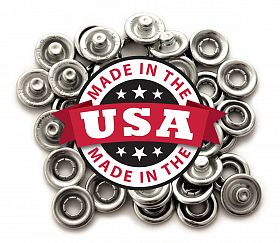 Do you want to purchase
100% USA made snaps?