About Us

The Snap Source, Inc. is a US corporation specializing in colorful snap fasteners and attaching tools. Our products are ideal as the finishing touch to any sewing project.
Jeanine Twigg, the owner of The Snap Source, Inc., is a sewing and embroidery specialist. While sewing for her children, she discovered that not all snaps are as durable as those on ready-to-wear clothing. She researched the differences, found the perfect snaps, designed and patented The SnapSetter® and launched The Snap Source, Inc. in September, 1993.
In January 1994, Jeanine started sharing the secrets of her successful snapping to sewing consumers at consumer trade shows. In 1995, Jeanine and the SnapSetter® won an award for outstanding achievement in the creation, packaging, and marketing of products in the sewing industry.
Today, with independent sewing, fabric or quilt shops stocking our snaps and tools, The Snap Source® is known as the premiere snap supply company known for in-stock and reliable products.
Our large range snap colors attracts WAH, small to medium size clothing and accessory manufacturers. All our products are CPSIA compliant which means your hard work will surpass third-party compliance testing.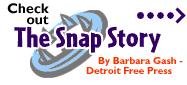 Behind the scenes at the Snap Source is the awesome, caring and knowledgeable Snap Source staff. We are available to help with your snap, tool and garment production questions. If we don't know the answer, we have a plethora of resources from over 25 years of business contacts. We're here to help make purchasing the right snap a fun and easy experience!