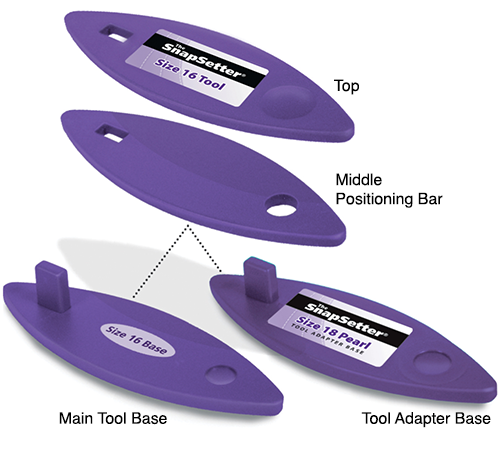 To set the Size 20 Snaps with the Size 20 Tool Adapter Base and the Size 16 Snapsetter Tool, simply interchange the SnapSetter® Tool Adapter and you'll have created a whole new "tool" with endless fastener potential. The tools and adapters are color coded and labeled for ease in use.
1. Use the original Size 20 SnapSetter® Tool Adapter Base to set the Cap to the Socket.
2. Use the original Size 16 SnapSetter® Tool Base to set the Stud to the Back Ring.
Note: Be sure the Size 20 cap snap fits snugly into the indented area on the Tool Adapter Base. If the snap does not fit, the wrong size Tool Adapter Base is being used.